Conversación situada como cosa cosmos: pobrecito calama, tan lejos de dios y tan cerca de codelco
Resumo
Resumen: El objetivo del presente trabajo es describir densamente algunas de las controversias que agitan la ciudad de Calama mediante el examen de un "evento" (WILKIE, 2014): nuestra "conversación situada" (HARAWAY, 1988) con Pablo Guzmán por las calles del centro de Calama, ciudad natal de Guzmán. Esta conversación se analizará bajo la noción de "cosa cosmos" (TRESCH, 2005; LATOUR, 2007a) la que precipita dos suposiciones teóricas y metodológicas. Primero, considerar simétricamente a los actores humanos y no humanos, renunciando a supuestos ontológicos esencialistas y cerrados; Segundo, que es factible representar y reconstruir la atmósfera controversial a partir de la descripción densa de un evento. La noción de cosa cosmos nos permite ir más allá de un enfoque externalista y desencarnado de las controversias (CEFAÏ; TERZI, 2012), para comprender su constitución atendiendo a la actuación de los actores. En el presente trabajo, utilizamos texto, mapas, fotos y otros medios para registrar y describir esta experiencia localizada. La conversación situada con Pablo Guzmán a través de Calama desafía la efectividad de una representación puramente verbal, requiriendo nuevos métodos de investigación y formas de representación.
Palabras clave: Controversias; Cosmopolítica; Visualización; Cosa Cosmos; Calama.
Situated conversation as cosmic thing: poor calama, so far from god and so close to codelco
Abstract: The aim of the present work is to thickly describe some of the controversies that agitate Calama city based on the examination of one "event" (WILKIE, 2014): our "situated conversation" (HARAWAY, 1988) with Pablo Guzman through the streets of Calama Center, Guzman's hometown. This conversation is analyzed under the notion of "cosmic thing" (TRESCH, 2005; LATOUR, 2007a) to precipitate two theoretical and methodological suppositions. First, to consider symmetrically human and non-human actors, giving up essentialist and closed ontological assumptions; second, that is feasible to represent and reconstruct the whole controversial atmosphere from the thick description of an event. The notion of "cosmic thing" allows us to go beyond an externalist and disembodied approach of the controversies (CEFAÏ; TERZI, 2012), to comprehend its constitution attending the actors' performance. In the present work, we use text, maps, photos and other media to record and describe this located experience. The situated conversation with Pablo Guzmán through Calama challenges the effectiveness of a purely verbal representation, requiring new research methods and representation forms.
Keywords: Controversies; Cosmopolitics; Visualization; Cosmic Thing; Calama.
Conversa situada como coisa cosmos: pobrecito calama, tão longe de deus e tão próximo de codelco
Resumo: O objetivo deste artigo é descrever densamente algumas das controvérsias que agitam a cidade de Calama, examinando um "evento" (WILKIE, 2014): nossa "conversa localizada" (HARAWAY, 1988) com Pablo Guzmán pelas ruas do centro de Calama, cidade natal de Guzmán. Esta conversa será analisada sob a noção de "coisa cosmos" (TRESCH, 2005; LATOUR, 2007a), que conduz a dois pressupostos teóricos e metodológicos. Primeiro, considerar simetricamente os atores humanos e não-humanos, evitando considerações ontológicas essencialistas e fechadas. Em segundo lugar, que é viável representar e reconstruir a atmosfera controversa a partir da descrição densa de um evento. A noção de "coisa cosmos" nos permite ir além de um foco externo e desencarnado das controvérsias (CEFAÏ; TERZI, 2012), para compreender sua constituição considerando o dos atores. Neste artigo, usamos texto, mapas, fotos e outros meios de comunicação para registrar e descrever esta experiência localizada. A conversa localizada com Pablo Guzmán através de Calama desafia a eficácia de uma representação puramente verbal, exigindo novos métodos de pesquisa e formas de representação.
Palavras-chave: Controvérsias; Cosmopolítica; Visualização; Coisa Cosmos; Calama.
Referências
BARTHES, R. Camera Lucida. Reflections on Photography. 1st New York: Hill & Wang, 1981.
BERGER, J.; MOHR, J. Otra manera de contar. Mexico: Editorial Gustavo Gili, 2007.
BOLTANSKI, L.; CHIAPELLO, E. Le nouvel esprit du capitalisme. Paris: Gallimard, 1999.
BOLTANSKI, L.; THÈVENOT, L. De La justification. Paris: Gallimmard, 1991.
CALLON, M. The sociology of an actor-network: The case of the electric vehicle. In: (Ed.). Mapping the Dynamics of Science and Technology: Sociology of Science in the Real World. London: Sheridan House Inc., 1986. p.29-30.
CALLON, M.; BARTHE, Y.; LASCUMES, P. Agir dans un monde incertain. Essai sur la démocratie technique. Paris: Seuil, 2001.
CEFAÏ, D.; TERZI, C. L'expérience des problèmes publics. Perspectives pragmatistes. Paris: l'EHESS, 2012.
DE BLIC, D.; LEMIEUX, C. Le scandale comme épreuve. Éléments de sociologie pragmatique. Politix, Paris, v. 3, n. 71, p. 9-38. 2005.
DESCOLA, P. Par-delà nature et culture. Paris: Gallimard, 2005.
DOMÍNGUEZ RUBIO, F. On the discrepancy between objects and things: An ecological approach. Journal of Material Culture, London, v. 21, n. 1, p. 59-86, 2016.
DOMÍNGUEZ RUBIO, F.; FOGUÉ, U. Unfolding the political capacities of design. In: ALBENA, Y. A.; ZAERA, P. A. (Ed.). What is Cosmopolitical Design? Design, Nature and the Built Environment. Londres: Ashgate, 2014. p.143-160.
FARÍAS, I. Planes maestros como cosmogramas: La articulación de fuerzas oceánicas y formas urbanas tras el tsunami de 2010 en Chile. Pléyade, Santiago, n. 14, p. 119-142, jul./dic. 2014.
FRASER, N. Rethinking the Public Sphere: A Contribution to the Critique of Actually Existing Democracy. Social Text, Durham, v. 25, n. 26, p. 56-80, 1990.
GARRETÓN, M. et al. Notas de Campo Controversias en Calama. Calama, Antofagasta, Chile 2015.
GREEN, D.; LOWRY, J. From Presence to the Performative: rethinking photographic indexicality. In: GREEN, D. (Ed.). Where is the photograph? ISBN: 9781903796085. Brighton: Maidstone: Photoforum, Photoworks, 2003. p. 47-60.
HARAWAY, D. Situated Knowledges: The Science Question in Feminism and the Privilege of Partial Perspective. Feminist Studies, Meryland, v. 14, n. 3, p. 575-599. 1988.
HERMANSEN, P.; TIRONI, M.; GARRETÓN, M. (2016). Pobre Calama, tan lejos de Dios y tan cerca de Codelco: Controversias Cosmopolíticas Calameñas. In: CONGRESSO IBERO-AMERICANO EM INVESTIGAÇÃO QUALITATIVA - INVESTIGAÇÃO QUALITATIVA EM CIÊNCIAS SOCIAIS, 5., 2016, Porto. Atas do... Porto: Ludomedia, 2016. p.103-112.
KRAUSS, R. E. Notes on the Index: Part 2. In: KRAUSS, R. E. (Ed.). The Originality of the Avant-Garde and Other Modernist Myths. Cambridge and London: The MIT Press, 1985. p. 151-170.
LASCOUMES, P. Chapitre 7. De l'utilité des controverses socio-techniques. Journal International de Bioéthique, Paris, v. 13, n.2, p.68-7, 2002.
LATOUR, B. Cosmopolitiques, quels chantiers. Cosmopolitiques. Cahiers théoriques pour l'écologie politique, Paris, v.1, n.1, p. 15-27, jun. 2002.
LATOUR, B.; WEIBEL, P. From Realpolitik to Dingpolitik or How to Make Things Public. In: LATOUR, B.; WEIBEL, P. (Ed.). Making Things Public: Atmospheres of Democracy. Cambridge, Mass: MIT Press, 2005. p.1072.
LATOUR, B. Can We Get Our Materialism Back, Please? Isis, Chicago, v. 98, n.1 p. 138-142, jan. 2007a.
LATOUR, B. Quel cosmos? Quelles cosmopolitiques? In: LOLIVE, J.; SOUBEYRAN, O. (Ed.). L'émergence des cosmopolitiques. Paris: La Découverte, 2007b. p.62-82.
LATOUR, B. A Cautious Prometheus? A Few Steps Toward a Philosophy of Design (with Special Attention to Peter Sloterdijk). Design History Society Falmouth. Cornwall: Design History Society 2008. Disponíble en: <http://www.bruno-latour.fr/sites/default/files/112-DESIGN-CORNWALL-GB.pdf> Acceso en: 05 mar. 2015.
LATOUR, B. An attempt at writing a compositionist manifesto. New Literary History, Maryland, v. 41, n. 3, p. 471-490. 2010.
LATOUR, B. Enquête sur les modes d'existence. Une anthropologie des Modernes. Paris: La découverte, 2012.
LATOUR, B.; CALLON, M. Don't throw the baby out with the Bath School! A reply to Collins and Yearley. In: PICKERING, A. (Ed.). Science as practice and culture. Chicago: Chicago University Press, 1992. p.343–368.
LEMIEUX, C. À quoi sert l'analyse des controverses? Mil neuf cent, Paris, v.1, n.25, p. 191-212, 2007.
MAUSS, M. The Gift: Forms and Functions of Exchange in Archaic Societies. London: COHEN & WEST LTD, 1966.
MOL, A.; LAW, J. Embodied Action, Enacted Bodies: the Example of Hypoglycaemia. Body Society, London, v. 10, n. 1 p. 43-62. 2004.
ORTEGA, D. Cosmic Thing. Los Angeles: The Museum of Contemporay Art, Los Angeles: Art Installation. 2002.
PEIRCE, C. S. Wath is a Sign? In: Peirce Edition Project (Ed.). The Essential Peirce. Indiana: Bloomington : Indiana University Press, v.2, 1998 (1894). p. 4-10.
PINCH, T.; BIJKER, W. E. The Social Construction of Facts and Artefacts: or How the Sociology of Science and the Sociology of Technology might Benefit Each Other. Social Studies of Science, Cambridge, Massachusetts, v. 14, n. 3, p. 399-441, jan. 1987.
SLOTERDIJK, P. Foreword to the Theory of Spheres. In: OHANIAN, M.; ROYOUX, J. C. (Ed.). Cosmograms. New York: Lukas & Sternberg, 2005. p.223-240.
SLOTERDIJK, P. Stress and Freedom. Cambridge, UK: Polity Press, 2016.
STENGERS, I. Cosmopolitics I. Minnesota: University of Minnesota Press, 2010a.
STENGERS, I. Including Nonhumans in Political Theory: Opening Pandora's Box? In: BRAUN, B.; WHATMORE, S. J. (Ed.). Political Matter. Technoscience, Democracy, and Public Life. Minneapolis: University of Minnesota Press, 2010b. p.3-33.
TRESCH, J. Cosmogram. In: O'HANIAN, M.; ROYOUX, J. C (Eds.). Cosmograms. New York: Lukas & Sternberg. 2005. p. 67-76.
VENTURINI, T. Diving in magma: how to explore controversies with actor-network theory. Public Understanding of Science, v. 19, n. 3, p. 258-273, 2010. Disponíble en < http://journals.sagepub.com/doi/abs/10.1177/0963662509102694 >. Acceso en: 25 mar. 2016
VERNISSAGETV. Damián Ortega at HangarBicocca in Milan, Italy. USA, Jun 12, 2016 2015. Disponível em: < http://www.huffingtonpost.com/vernissagetv/damian-ortega-at-hangarbi_b_7569212.html >.
WILKIE, A. Prototyping as Event: Designing the Future of Obesity. Journal of Cultural Economy, London, v. 7, n. 4, p. 476-492. 2014.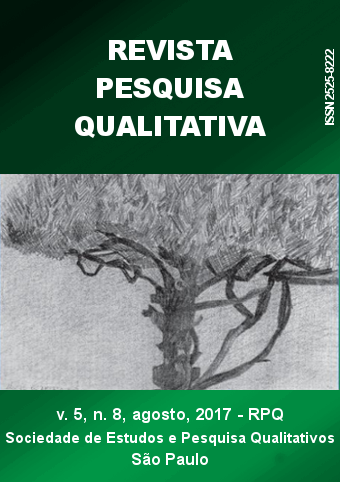 Downloads
Seção
Artigos de Pesquisa
Licença
Essa revista é licenciada pelo sistema creative commons 4.0, não-comercial.