Desenhos, vinhetas e diagramas: ouvindo as narrativas das crianças através da elucidação gráfica
Resumo
Resumo: Nas últimas décadas ocorreu uma transformação no modo de estudar a infância. De investigações 'sobre' crianças passou-se a investigações 'com' e 'pelas' crianças. Esta mudança comportou uma série de adaptações e inovações metodológicas, entre as quais se encontram a combinação de técnicas de elucidação com técnicas mais tradicionais, como focus groups ou entrevistas. Este artigo pretende contribuir para a reflexão acerca da implementação deste tipo de iniciativas metodológicas em investigação qualitativa, através de uma revisão da literatura recente sobre elucidação gráfica e da apresentação de uma investigação própria, na qual se incorporaram desenhos, vinhetas e diagramas, e se propõem reflexões sobre oportunidades e desafios que esta opção metodológica pode criar.
Palavras-chave: Elucidação gráfica; Desenho temático; Vinheta; Diagrama interativo; Crianças.
Drawings, vignettes and diagrams: listening to children's narratives through graphic elicitation
Abstract: The way of studying childhood has evolved in the last decades. Most inquiries are no longer 'about' children but 'with' and 'for' children. This transformation has led to a series of methodological adaptations and innovations, among which we can find the combination of elicitation techniques and other, more traditional, techniques, such as focus groups or interviews. The aim of this article is to contribute to the reflection on the opportunities and challenges that these methodological initiatives can provide. Initially, a literature review on graphic elicitation techniques is presented. Subsequently, a personal research experience, in which drawings, vignettes and diagrams were incorporated, is displayed in order to illustrate some of the streghts and limitations found with regard to this methodological option.
Keywords: Graphic elicitation; Thematic drawing; Vignette; Interactive diagram; Children.
Downloads
Não há dados estatísticos.
Referências
BAGNOLI, A. Beyond the standard interview: The use of graphic elicitation and arts-based methods. Qualitative Research, Cardiff, v. 9, n. 5, p. 547-570, Nov. 2009.
BANKS, M. Visual methods in social research. 1. Ed, London: Sage, 2001.
BARTER, C.; RENOLD, E. 'I wanna tell you a story': Exploring the application of vignettes in qualitative research with children and young people. International Journal of Social Research Methodology, Southampton, v. 3, n. 4, p. 307-323, May. 2000.
BELOTTI, V.; LA MENDOLA, S. Il futuro nel presente: Per una sociologia delle bambine e dei bambini. 1. ed. Mila?n: Guerini scientifica, 2010.
CARDANO, M. La ricerca qualitativa. 1. ed. Bologna: Il mulino, 2011.
COPELAND, A. J.; AGOSTO, D. E. Diagrams and relational maps: The use of graphic elicitation techniques with interviewing for data collection, analysis, and display. International Journal of Qualitative Methods, Edmonton, v. 11, n. 5, p. 513-533, Dez. 2012.
CRILLY, N.; BLACKWELL, A. F.; CLARKSON, P. J. Graphic elicitation: Using research diagrams as interview stimuli. Qualitative Research, Cardiff, v. 6, n. 3, p. 341-366, Ago. 2006.
DEVOTO, F. Historia de la inmigración en la Argentina. 1. ed. Buenos Aires: Sudamericana, 2003.
GÓMEZ ESPINO, J. M. El grupo focal y el uso de viñetas en la investigación con niños. Empiria. Revista de metodología de ciencias sociales, Madrid, n. 24, p. 45-66, jun./dic. 2012.
JENKS, C. Childhood. 2. ed. London: Routledge, 2005.
JOANOU, J. P. The bad and the ugly: Ethical concerns in participatory photographic methods with children living and working on the streets of Lima, Perú. Visual Studies, NewYork, v. 24, n. 3, p. 214-223, Nov. 2009.
MEO, A.; DABENIGNO, V. Imágenes que revelan sentidos: Ventajas y desventajas de la entrevista de foto-elucidación en un estudio sobre jóvenes y escuela media en la ciudad de Buenos Aires. Empiria. Revista de metodología de ciencias sociales, Madrid, n. 22, p. 13-42, jul./dic. 2011.
MITCHELL, L. M. Child-centered? Thinking critically about children's drawings as a visual research method. Visual Anthropology Review, Orange, v. 22, n. 1, p. 60-73, Mar. 2006.
MOSKAL, M. Visual methods in researching migrant children's experiences of belonging. Migration Letters, London, v. 7, n. 1, p. 17-32, Apr. 2010.
PUNCH, S. Research with children: the same or different from research with adults? Childhood, Trondheim, v. 9, n. 3, p. 321-341, Aug. 2002.
GO?MEZ ESPINO, J. M. El grupo focal y el uso de vin?etas en la investigacio?n con nin?os. Empiria. Revista de Metodologi?a de Ciencias Sociales, Madrid, n. 24, p. 45-66, jun./dic. 2012.
ROVETTA CORTÉS, A. I. 'Si me dieran un billete de avión…': recurriendo a la elucidación gráfica en entrevistas con menores de edad. Empiria. Revista de metodología de ciencias sociales, Madrid, n. 36, p. 63-87, enero/abr. 2017.
ROVETTA CORTÉS, A. I. Elucidación gráfica en investigación cualitativa con menores de edad. In: CONGRESSO IBERO-AMERICANO EM INVESTIGAÇÃO QUALITATIVA (CIAIQ), 5, 2016, Porto. Atas…Porto: Ludomedia, 2016. p. 316-325.
ROVETTA CORTÉS, A. I. Soli et sanguinis: migración familiar 'argentina' y políticas para el 'retorno' en la Región del Veneto y en la Comunidad Autónoma de Galicia. 2015. 317 p. Tese (Doutorado em Ciências Sociais) - Departamento de Filosofia, Sociologia, Pedagogia e Psicologia Aplicada, Universidade de Pádua, Pádua, 2015.
QUINO. Todo Mafalda. 1. ed. Barcelona: Lumen, 2001.
SALDAÑA, J. The coding manual for qualitative researchers. 1. ed. New York: Sage, 2009.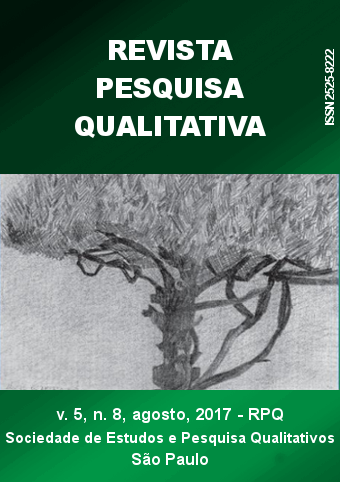 Downloads
Como Citar
Cortés, A. I. R. (2017). Desenhos, vinhetas e diagramas: ouvindo as narrativas das crianças através da elucidação gráfica. Revista Pesquisa Qualitativa, 5(8), 312–326. Recuperado de https://editora.sepq.org.br/rpq/article/view/86
Seção
Artigos de Pesquisa
Licença
Essa revista é licenciada pelo sistema creative commons 4.0, não-comercial.